Fab Sugar is having a great sale on Stella & Jamie! For only $100.00, you will get a $215.00 voucher for their online store! What an amazing deal!
Need an invite? Click here!
ow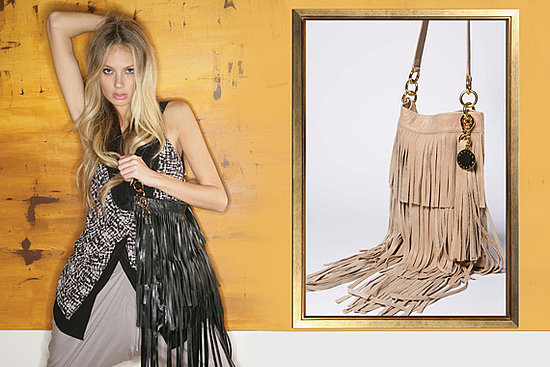 April Mun knows that style is never one-sided, so she created Stella & Jamie, a line of chic separates and handbags that speak to your multiple fashion personalities. If your sartorial points of view make shopping a scattered affair, our exclusive offer keeps you focused with $215 worth of
Stella & Jamie's
multifaceted duds for just $100.
Named for April's two very stylish assistants, Stella & Jamie draws upon their distinct personalities — Stella, confident and sexy; Jamie, fashion forward and sophisticated — for a collection that evokes the demure and the vixen in all of us. Handbags like the fringed Sue and Rav are both glam and boho, featuring studded details and gold hardware for a rocker edge;cocktail dresses reveal just enough skin to keep you cool in the thick of Summer, juxtaposing tailored silhouettes with elegant draping. Ten percent of proceeds from your purchase atstellaandjamie.com will go to Stella's House, an organization dedicated to protecting Moldovian orphans from sex trafficking. April says it best, "It's all about sharing" — a sentiment that should please your philanthropic side.
Word on the Street
"Stella & Jamie's creative force April Mun designs for the confident and sometimes irreverent woman who embraces an effortless and edgy look. The line is inspired by a muted color palette and is replete with sensuous textiles and eclectic embroidery. Stella & Jamie consistently showcases a range of signature, sassy silhouettes and bohemian-inspired handbags." — Women's Wear Daily, March 2011
$100 for $215 worth of Stella & Jamie merchandise

Limit one offer code per person
Valid online only at store.stellandjamie.com
Not valid on previously placed orders
Not valid for shipping or handling fees
Must use offer code to redeem
Not valid toward sale or clearance merchandise
Expires Oct. 21, 2011
Other conditions apply
Summer and pre-Fall collection now available at Stella & Jamie, including effortless dresses, tops, and signature handbags

Rock boho-glam handbags like the Sue and Rav
10 percent of proceeds from your purchase atstellaandjamie.com benefit Stella's House, an organization dedicated to protecting Moldovian orphans from the sex trafficking industry