It took forever for me to find the right florist. I was close to going with a florist in Mt. Kisco, but things did not work out. The business owner was occupied with personal life issues which I am sympathetic too, but also we felt she had a bit of an attitude, and made us feel like she was doing us a favor.
I finally found the right florist (will be disclosed after the wedding) who had excellent customer service, and really understands my vision.
Our Chuppah will look similar to this one. It will have ties around each one. Roses, Snapdragons and Dendrobium Orchids
This will be my centerpiece. Baby's Breath in tall vases wrapped in organza ribbon.
My Bridesmaids will be holding these beautiful Nosegay Bouquets. White Roses with Eucalyptus.
I will be holding a bouquet with White Peonies, and Light and Dark Pink Roses with Nosegay (Eucalyptus). I imagine they will look something like these.
I find this arrangement to be unique! Perhaps I will have my florist do something similar. Maybe!!!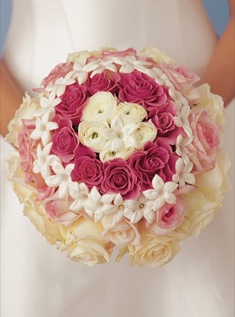 I will update my photos after my wedding takes place. Stay tuned!