I have actually just finished up using Yes to Carrots, and I really liked the way it felt on my face. It was very light, refreshing, and the ingredients are very natural! A Steffashionista stamp of approval!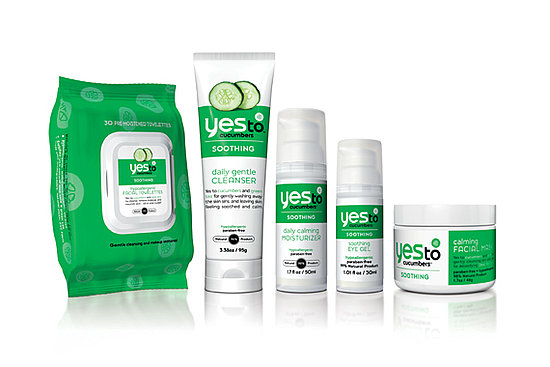 Despite what your 5-year-old self may have believed, Mom's advice to eat your vegetables wasn't intended as a torture tactic. We now comprehend the incredible health benefits of colorful, cruciferous, and certified organic produce, and Yes To Carrots has captured the beauty rewards for your skin and hair. Your health is priceless, but with our exclusive offer, you get $35 of Yes To Carrots's natural skin, body, hair, and baby care for just $15.
Fruits and veggies keep your body in working order, so it's no surprise that they also do wonders for the skin. The Yes To products blend Dead Sea minerals and the best organic ingredients in a gourmet salad for your skin type: carrots to nourish, cucumbers to soothe, tomatoes to clarify, blueberries to revitalize. The Yes To Cucumbers line is a refreshing addition to your Summer skin care regimen: the Facial Towlettes and On-The-Go Towelettes go from bathroom to beach and back to wipe away swelter-induced sweat, grime, sunscreen residue, and general stickiness. So even when only a burger can satisfy your stomach, at least you can tell Mom that you're getting your daily dose of vegetables.
"I'm usually not a makeup wipe user because my skin is sensitive, and they inevitably have some weird artificial 'clean' scent that irritates it or leave a residue that gets my follicles all inflamed. But earlier this week after putting on a serum that was taking my skin bad places fast, I reached for a packet of Yes to Cucumbers Face Towelettes ($3) in desperation and found them rather delightful. They smell like sweet cucumber, and my skin isn't oddly sticky or shiny after I use them the way it is with most towelettes. They're not a substitute for cleansing, but they do a good job of getting makeup off, and for an after-work lipstick change or cleaning yourself up after the gym, they're perfect. I also like that you can get them in a small 10 count pack, which is ideal for tucking away in your purse." — BellaSugar
$15 for $35 worth of products from Yes To Carrots

Limit one offer code per person
Valid online only at www.yestocarrots.com
Not valid on previously placed orders
Must use offer code to redeem
Not valid toward shipping and handling charges
Expires Jan. 5, 2012
Other conditions apply
Natural skin, body, hair, and baby care suited to your type